Speak clearly & with confidence

With this course you'll get rid of your bad pronunciation habits fast. You'll develop a clear accent, and will have the confidence to speak to everyone.

Be understood by everyone

Do people often ask you to repeat what you say? Want to put an end to the frustration of not being understood? That's what this course does for you.

Get a good job more easily

You're competing for jobs with people who have the same qualifications as you. A clear English accent will give you the advantage you need.
Understand fast spoken English

The more you improve your pronunciation the easier it'll be for you to understand fast, real English. You'll notice the difference from lesson one.

Advance your professional career

Are you looking for a job promotion? With a good English accent you're more likely to get it. Everybody loves communicating with a clear speaker.

Speak on the phone without effort

The job you want requires you to speak English on the phone or Skype. Having a clear accent will help you communicate well in every situation.
Why learn English with Maria?
When you learn English with me, you get the best of both worlds.
On the one hand you get a course that's 100% recorded by native English speakers. On the other hand, you get a teacher who's been where you are now, and understands the problems you're having.
Unlike native English teachers, I've personally gone through the process of improving my English pronunciation, so I know what works and what doesn't.
What does this course bring you?
Step by step lessons, interactive flashcards, drills & quizzes.
I've designed this British English pronunciation course to bring you fast results. Here's what you get:
Module 1: Individual English sounds
Module 1 introduces you to the 45 Standard British English sounds using the 3,000 most common words. Each lesson focuses on one sound, and walks you through it step by step.
To make it even easier for you, I've put each word on an interactive flashcard which you can play over and over. Play this video to see some examples.
Apart from the interactive flashcards, quizzes and drills, I've added another great tool to help you get the 45 sounds always right: tongue and lip images.
Every lesson comes with a tongue and lip image, plus a clear explanation. Here are the images for the /ə/ sound: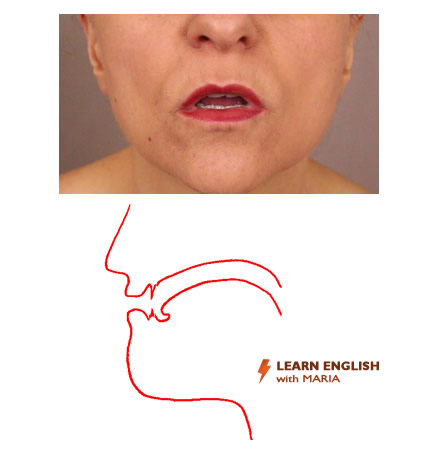 Module 2: Common mistakes by language
I'm currently working on this module. It'll be available soon.
Modules 3 and onwards
I'll bring you those modules as quickly as I can :)
English Pronunciation Course
€19 per month
Immediate access to all the course lessons
Unlimited access to all the lessons
Step by step interactive lessons
Interactive flashcards
Interactive drills & quizzes
Maria's best pronunciation tips
30-day full money back guarantee
You may cancel at any time
50% off Maria's Live Classes - Exclusive to course subscribers
FAQs about this English pronunciation course
How long will it take me to improve my English accent with this course?
I've designed the step by step lessons to help you notice some improvement within a few hours of starting the course. After that, every hour you put into improving your pronunciation will make a big difference. If you practise regularly, your accent will improve noticeably within three to four months.
How is this course different from others?
This course focuses on the 3,000 most common English words. Other courses often focus on words that you're unlikely to know. I prefer a more practical approach to English learning.
This course walks you, step by step, through the mistakes you're likely to be making; and it shows you how to avoid them. Other courses overlook this essential aspect of pronunciation learning.
This course includes interactive flashcards in every section of every lesson. Interactive flashcards allow you to learn in an active way. Other courses are video-based, which is a passive way of learning, and therefore slower.
This course shows you how to produce each of the 45 sounds using lip images and mouth graphs. Very few sounds, if any, are pronounced identically in your first language and in English. Knowing those differences will help you improve your accent fast.
This course gives you the spellings for each sound, in order of frequency, using plenty of examples.
This course also brings you: pre-tests, dozens of speaking and listening drills, and learning tips to help you learn fast.
Does this course come with a money-back guarantee?
Yes. You take no risk at all when you subscribe to this English pronunciation course. If for any reason it doesn't suit you, you get all your money back within 30 days of joining. Just drop me an email, and I'll send you a full refund.
Can I cancel my subscription at any time?
Yes, you can cancel your subscription at any time with no penalty. And you can also stay subscribed for as long as you want :)
Where can I see some free lessons from the course?
Here are the free lessons.
Is this an American English or a British English course?
This is a British English pronunciation course.
More specifically, the accent I teach you in this course is called Standard British English (also known as Standard Southern British English, RP, Modern RP, BBC English, or Oxford English).
Who is this English pronunciation course for?
This course is for non-native speakers who want to improve their British English accent. It's ideal for those at an intermediate level or above.
Who is this course NOT for?
This course is not for total beginners. It's better to do this course when you're familiar with at least a few hundred everyday English words.
Also, if you're expecting a miracle without practising regularly, please don't subscribe to this course. I can help you get a great accent, but you need to put in the hours required.
Is the monthly subscription a recurring payment?
Yes, and you can cancel it at any time with no penalty.
Will this course work on all my devices?
Yes. This English pronunciation course is compatible with all devices (Mac, Windows, Linux). You can play the lessons on your computer, tablet, phone, tv ...
Do I have to download anything?
No. This course doesn't take any of your computer, tablet or phone space. All the lessons are hosted by us. And you can access them 24/7, with no limitations.
Do I need to be online to play the lessons?
Yes. You'll need an Internet connexion to play the lessons.
Is this course recorded by native speakers?
Yes. All the recordings in this English pronunciation course have been done by professional native English voice actors with a Standard British English accent.
Does this course use computer generated recordings?
Not at all. All the recordings in this English pronunciation course have been done by real humans.
Computer generated recordings do not give you an accurate intonation, and they don't express human emotions. You may have noticed that in many of the English courses currently available, as well as most of the free lessons you find online.
Am I too old to improve my English accent?
No. My experience as a teacher has shown me that you're never too old to improve your pronunciation. I've seen students of all ages get a better accent with regular practice.
Will you answer my English language questions?
This step by step course answers the great majority of the questions you'll have. If you have any unanswered questions, you can send them to me. I'll answer them in my Live English Classes, in my videos, and I may also add the answers to the course content.
Does this course include free access to the Live English Classes?
No. The English Pronunciation Course subscription does not include free access to either the Live Classes or the Live Classes Replays. Those have to be purchased separately.
Is this course full of jargon and technical terms?
Not at all. I won't throw at you words like: fricative, labiodental, alveolar, plosive. If you've been put off by other English courses, you're safe here.