About our team
Do you want to speak English with a great accent?
11 things about me, Maria Fernandez
I've been learning foreign languages on a daily basis since I was a child. Regardless of how busy I am, I always study for at least two hours a day. So far, these are my levels: Spanish: native speaker. English: near native. French: C2+. German: C1. Italian: C1 (C2+ in listening comprehension). Portuguese: B1 (B2 in listening comprehension). Japanese: B1 (500 kanji).
I've studied British and American English pronunciation for more than twenty years. I strongly believe that, with the right lessons, you can improve your accent fast.
I've been teaching languages for over two decades. To date, I've got more than 5000 hours of language teaching experience.
I have a degree in History from the Universidad Complutense de Madrid (Spain). In my spare time, I love learning History in different languages: English, Spanish, French, German and Italian.
I have a master's in English Literature from the University of Edinburgh. Literature is my biggest passion.
I live in Edinburgh (Scotland, UK) with my husband, Simon King, a Professor in the Linguistics department at the University of Edinburgh. He gives me great advice for my English lessons.
I've written and published this Spanish learning course.
I've written and published two other books: (Disclosure: some links lead to Amazon & I may get a commission for sales, at no extra cost to you.) Learning How to Learn English and Fluent in Spanish. I've also translated the Sherlock Holmes story A Scandal in Bohemia – Un escándalo en Bohemia, and a guide to the Book of Kells, El libro de Kells.
When I'm not studying or teaching languages, I'm often riding a bike or hillwalking. You can follow my adventures on my travel blog.
I love reading, cooking, listening to audiobooks, cycling, travelling, and music. For thirty minutes a day, I practise the piano. I've got a long way to go, but I love it. Playing an instrument has always been one of my dreams.
In both my private and professional life I stick to a magical principle: I don't believe in the word "impossible". This is how you pronounce it, although hopefully you'll never need it:
nothing's impossible
/ˈnʌθɪŋz ɪmˈpɒsəbᵊl/
Yes, you can improve your English accent fast
I've always wondered: why are English pronunciation courses so boring and confusing?
I look back at the courses I bought when I decided to get rid of my horrible English accent and it's a miracle I ever learned anything from them. It's no surprise that most students give up.
But, I confess, the boring pronunciation lessons I went through were an inspiration for the course I've created. My English pronunciation course is the opposite of what I experienced. It is:
Easy
Clear
Entertaining
Effective
Affordable
Convenient
Engaging
Thorough
You can have a look at my English pronunciation course here.
Why study English pronunciation with Maria?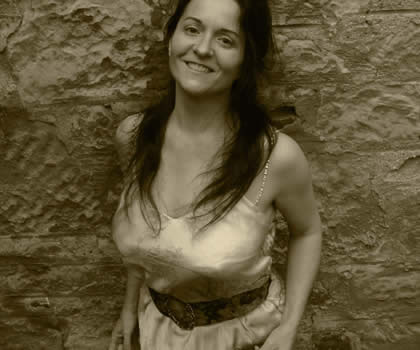 I used to have all the problems you're having today with English pronunciation. But no more. I've trained myself to hear and distinguish all the English sounds, and I've learned to say them correctly.
Through practice, I've come up with a great technique that will help you improve your English accent fast and to the highest level.
I've also studied throughly the pronunciation of several other languages: Spanish, French, German, Italian, Portuguese and Japanese. And I'm looking into more languages.
That has helped me understand the pronunciation difficulties we all have depending on our mother tongue.
Also, all the lessons in my course are recorded by native English speakers. So you get the best of both worlds: a teacher who's been where you are today, and a first-rate course.
More about Maria
I've written about my English learning journey in several posts. Here's one: My journey to English fluency.
Occasionally, and somewhat reluctantly, I'm on Facebook.
Play Maria's
free English pronunciation lesson
[social_warfare]