Note: there are some common English words in this post you may not be familiar with. To help you learn them, I've marked them with an asterisk (*) and I've given you their definitions at the bottom of this post.
Have you ever had this experience?
You're talking to someone in English. You're using the right words, your verb tenses are correct, and there's nothing wrong with your word order.
And yet, the person you're talking to is staring at* you, with his eyes wide open, unable to work out what it is you're trying to say.
– "What's wrong? Is he brain-dead?", you wonder.
No, I'm afraid it's not his brain you have to worry about, but your English accent.
SEE ALSO: Maria's free lesson set "Your Top 5 English Pronunciation Mistakes".
Like many before you, including myself, you've neglected* the single most important aspect of the English language: its pronunciation.
How bad is a bad English accent?
Here's a sad fact I've personally learnt the hard way*: without a good accent, English is often impossible to understand.
It doesn't matter how impressive your grammar and vocabulary are. If you can't say the "th" in "the" properly, if you're adding an "e" in front of words like "Spain", if you're saying the "t" in the word "castle" … no one's going to understand what you're saying.
By the way, this is how you say that ubiquitous* little word. Press Play to hear it, and flip it with the red arrow:
Most English teachers and courses never tell you that having a good English accent is essential. In fact, they spend little time on the pronunciation.
Why that is, is a mystery to me, because having a bad English accent has the same effect as wearing pyjamas at your wedding.
Picture this: you've made a big effort to have a perfect day. The food is splendid, the flowers are glorious, the venue* is a dream. And yet, you insist on wearing the ugliest outfit* in your wardrobe.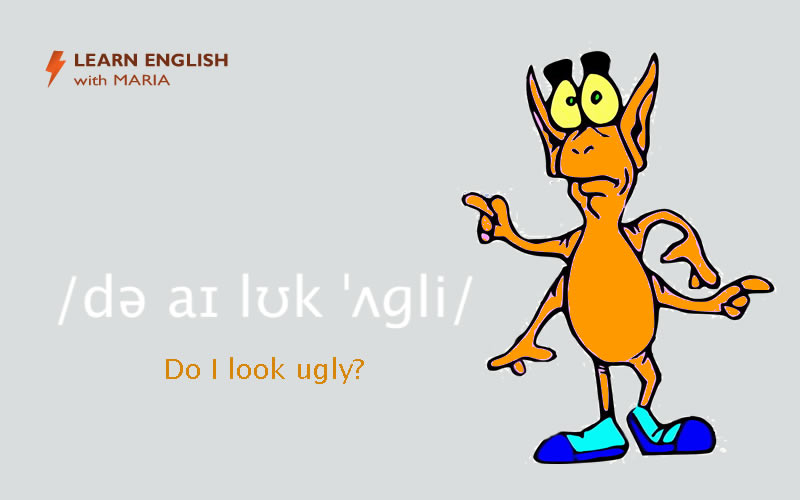 And so, when your guests arrive, they don't see the dream venue* or the glorious flowers. All they see is you in your sad pyjamas. Everything else fades* in the background.
It's the same with English. You've spent years studying the tenses and irregular verbs, getting your head around* the prepositions, and learning two dozen expressions every week. But you haven't given your pronunciation a second thought*.
Which means that your irregular verbs, prepositions and expressions are all wasted, because no one can understand them.
I made the same mistake for a long time. That's why, after years of studying English to a high level, I came to the painful conclusion that I needed to get rid of* my bad pronunciation habits.
To put it mildly*, my accent was a disaster.
How I got rid of* my bad English accent
One day I made what soon proved to be one of the best decisions in my life. For a few months, I concentrated all my efforts on improving my English accent.
At the time there wasn't an interactive English pronunciation course that took me step by step. All I could find was a book course with recordings that I played over and over.
It was a painful and often frustrating struggle*.
Day after day I studied the pronunciation rules and the endless exceptions. I did dozens of drills*, time and time again.
Slowly, I saw my pronunciation improving. It was almost like I was becoming a different person.
One day I realised that when I spoke, people no longer stared* at me, eyes wide open, as if they were brain-dead. Instead, they seemed to understand what I was saying.
I grew more confident. I became a better Spanish teacher because my students no longer had trouble communicating with me. Also, talking to people on the phone stopped being a headache.
Plus, my efforts brought an unexpected bonus: the more I improved my English accent, the easier I found it to understand other people.
Now that I had got rid of* my bad pronunciation habits, I no longer expected to hear an "l" in the word "salmon", or a "t" in "castle".
Hundreds of words that had been tormenting me were now crystal clear when people said them.
I also learned to string words together, emphasising just one syllable within a phrase, the way English speakers do.
To show you how much more authentic it sounds when you speak English that way, I've recorded this sentence from the Sherlock Holmes story A Scandal in Bohemia.


To Sherlock Holmes she is always the woman. I have seldom heard him mention her under any other name. In his eyes she eclipses and predominates the whole of her sex. It was not that he felt any emotion akin to love for Irene Adler. All emotions, and that one particularly, were abhorrent to his cold, precise but admirably balanced mind.
from A Scandal in Bohemia, by Sir Arthur Conan Doyle
Reading about my pronunciation journey perhaps you're wondering whether you, too, can improve your English accent. Maybe you think you don't have what it takes to succeed.
Regardless of* what other teachers may have told you, you can indeed succeed. I can assure you.
GET: Maria's free lesson set "Your Top 5 English Pronunciation Mistakes".
When I decided that I deserved a better English accent, there was also something I wanted to prove to my critics: no matter how difficult something may seem, if you truly want it, you'll get it.
As Henry Ford, the American industrialist said:


Whether you think you can, or you think you can't – you're right.
That's the beauty of success: only you, no one else, can decide whether you'll achieve something.
Why settle for* a bad English accent?
I have no doubt in my mind that deciding to improve my English accent was crucial to my life.
Without a better accent I'd have never got my Master's in English Literature. I wouldn't have been able to set up a business in Scotland, and I certainly wouldn't be able to help you today with your English pronunciation.
Improving your accent will take you time. Nothing worth having ever comes without effort.
Almost daily you'll feel you're on a roller coaster*. It'll be frustrating, exciting and annoying*, all at once.
Often you'll want to give up. Occasionally it'll seem pointless. But, when you get there, you'll never regret the effort, and you'll reap the benefits* of it for the rest of your life.
Improving your English accent will also be faster and more fun than when I did it all those years ago. With today's technology, working on your pronunciation is a lot easier.
You can get interactive audio flashcards, and play words individually, at your own pace. Here's an example:
You can do drills* and quizzes* with single words, phrases and whole sentences. You can also get step by step pronunciation lessons.
To show you the pronunciation flashcards, step by step lessons, and drills* and quizzes* you can use to improve your accent, I want to invite you today to play my free lesson set: "Your Top 5 English Pronunciation Mistakes".
Play Maria's
free English pronunciation lessons
Do you know these 19 English words and expressions?
To help you expand your English vocabulary, here are the definitions of the 19 words I've marked in this post with an asterisk.
Most of those words have several meanings. Below I've given you the most relevant definitions for this post.
annoying: making you feel slightly angry.
drill: any exercise enforced with regularity and by constant repetition.
to fade: to disappear gradually; to grow dim; to vanish.
to get rid of something: to free oneself from something.
to get one's head around: to understand or come to terms with.
to give something a second thought: to worry about something.
mildly: in a gentle manner.
to neglect: not to attend to with due care or attention.
outfit: a set of matching garments and accessories worn together.
quiz: an exercise conducted as an examination.
to reap the benefits of something: to enjoy the positive things that come with something.
regardless of: in spite of; without regard for.
roller coaster: a period of persistent ups and downs.
to settle for: to be satisfied with.
to stare: to look with fixed eyes as through fear, wonder, surprise.
struggle: a forcible effort to obtain an object.
the hard way: the most difficult way of doing something.
ubiquitous: existing or being everywhere, or in all places, at the same time; omnipresent.
venue: a place where an organised gathering, such as a wedding, is held.
Perhaps you're unsure about the pronunciation of these words. You can hear and practise them individually in my English pronunciation course.
Join Maria's
English pronunciation course now