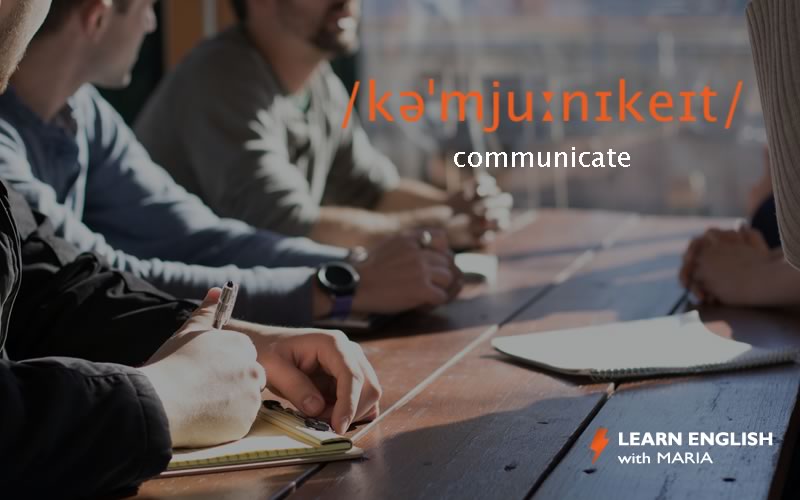 Being able to communicate in English is a great motivation to continue learning the language.
Mastering English will take you time, but you can start using your first sentences within a few lessons. You'll be able to have simple English conversations even if you only know a few hundred words, some expressions, and some verb forms.
Being able to communicate in English is a great motivation to continue learning the language.
Click To Tweet
To communicate in English without trouble, here are my best six tips:
Tip #1: speak loud and clear.
When we lose our confidence, we tend to lower the volume. Often the reason why people don't get what we're saying is because they cannot hear it, not because they cannot understand us.
Tip #2: keep your sentences short.
Long sentences are much more difficult to master than short ones. In long sentences it's easy to get the word order wrong, making them meaningless.
For a while you may only be able to say simple sentences, but if you can say them clearly and with confidence you'll be able to get by in most situations.
Tip #3: use words you can pronounce well.
If a word you cannot say clearly is essential, practice saying it until others can understand it. If all the English words you know can be understood by others when you say them, those words will take you a long way.
Tip #4: think ahead what it is you're going to say.
If you're going shopping, check the words for the items you're looking for. If you're going to a restaurant, check your food and drink vocabulary.
Tip #5: think of the possible answers you may get.
Check the vocabulary that's likely to come up when people talk to you, and familiarise yourself with it.
Tip #6: master the numbers.
Numbers come up in almost every conversation, and native speakers always say them fast. Get into the habit of practising the English numbers regularly.
Remember: people like being addressed to in their language, especially in their own country. Making the effort to communicate in English will earn you lots of new friends.


If you talk to a man in a language he understands, that goes to his head. If you talk to him in his own language, that goes to his heart.
Nelson Mandela
Do you want to improve your English fast?
Play Maria's free English pronunciation lessons